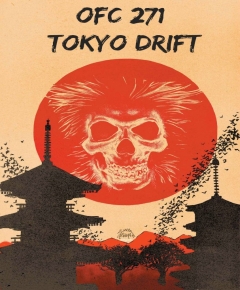 As I sit here on my Private Jet heading back to Canada, less than 48 hours after OFC 271: Tokyo Dirft, I can't help but still feel the buzz and excitement from this incredible event. Fans came out in droves, breaking our previous attendance record and almost filling the entire Saku Dome with 6,487! On top of this, it was also our 2nd highest rated event of All-Time! Stacking the card with three title fights and five former OFC Champions, we knew we built something special, but to see it all play out...it kind of makes you feel like a proud father, although I'm not looking forward to the teen years. But before we get ahead of ourselves, let's take the time appreciate what went down this weekend with a well-articulated recap. So...Without further ado, let's run it all back with a Full Review!



Let's start with The Middleweight Championship Main Event; Peter Parker defending against The Bounty Hunter Thomas Hawk. This is a fight that had been brewing for awhile and the two crossing paths was undoubtedly inevitable. It started out with both men trading shots, testing each other early. Still in the opening minute, Parker began to implement his game-plan and introduced Hawk to his clinch game. This is where we were treated to trading back n forth with some good ol' fashioned dirty boxing, picture Kevin Owens and Sami Zayn in every match they've ever had. Eventually breaking from the clinch, Hawk had a close scare as the round came to an end when his hands dropped low and Parker sent him crashing to one knee. But after a quick scramble he managed to survive and make it to the 2nd round. And for the first two minutes of the 2nd, it looked as though Hawk had found his range landing with frequent precision. But this soaring progress from Hawk came to a crashing halt when Parker dropped him with a huge combo, this would've ended most mortals, hell, my head started hurting just from seeing replays. Now rocked, Parker called him to his feet, looking for the finish. Knowing all the marbles are on the line, Hawk dug deep and managed to survive once again, while continuing to be pegged with counters for the remainder of the round. Determination was smeared across their faces along some sweat and blood for good measure, while these men gave each other their best shots in the 3rd. Even dropping one another to a single knee, back n forth until Parker got the clinch once again to close out the round.



Hawk gave us his most and possibly only dominant round of the fight in the 4th, depending on how you judge things. He really used his range effectively as he was earlier by staying on the outside, catching Parker with straight punches that word on the street is; Roy Jones Jr respects, wait, was it the street or the Play by Play commentary? Either way, he respects them and Parker grew to also! Knowing he most likely needed a finish, Parker threw him off by going back to the well, I mean the clinch, where it clearly worked as a game-changer throughout even though Hawk held his own in it. In the end, after all was said and done, Parker added the Unanimous Decision Victory to his record and retained the OFC Middleweight Championship! A hell of a fight and you gotta love when the final bell rings just how much respect these warriors show each other, as seen in the Post Fight Interviews. Champion Parker will next be seen at OFC 279, back in Montreal, when he takes on Newly signed Former Hypnotic FC Champion Clay Matthews. Meanwhile, now former title challenger Thomas Hawk will take on rising contender Thomas Rutherford at OFC 277...Man, our Middleweight division is a scary scary place full of killers...Parker's spider sense must be going off constantly, how does he ever get any sleep?



Our Co-Main Event featured a Lightweight Bout for the Ages; Champion Robbie Rockin taking on Elite Striker Corey Davis. The opening minute made it seem like Rockin is just at another level right now in his career scoring with some varied strikes, although Davis did connect with one that made both men smile and give high fives, looked like a fun moment, I almost felt left out. But the bromance ended there, Davis' aggressiveness started to help him get past Rockin's incredible striking defense. In the final moments of the first round, Rockin got caught with a high kick that, well, rocked him. The crowd erupted and by doing that, it was almost like a Bat signal for Davis to go in for the kill. Yes, I know Batman doesn't kill but Batfleck does, so my analogy works dammit! But yeah, where was I, oh yeah...Then Davis did just that, as he dropped a shoulder and threw a monster hook that connected perfectly to the side of Rockin's head, knocking him out cold! And just like that we have a New Lightweight Champion, impressive performance earning Davis the KO of the Night, as if there ever was any doubt. I'd let you know now who the next title challenger will be for him, but you're just going to have to keep reading for that info. Think I'ma give it away that easily? At least buy me a drink first, ha!



Our final title fight of the night featured OFC Bantamweight Champion Dan Price looking to defend against The Tiger Yves Jabouin. What can I say about our Champion that that hasn't already been said at some point. If I remember correctly, I last compared him to GSP with his sheer dominance, and I'm just here to pat myself on the back for it, because well, he showed why once again. The only adjustment I'd like to make to my comparison is by possibly sprinkling some Mighty Mouse over it like Salt Bae. You have to give credit to The Tiger though who was game throughout, clearly coming in with a plan...but being the Chess-Master he is, Price just had an answer for everything. Yves takes the fight in to the clinch and Price hits him with some dirty boxing. Try to stay at range and Price still pops your eye socket. We didn't see much wrestling or BJJ in this fight, but I personally didn't hear a single complaint from the crowd. In case you haven't figured it out by now, Price retained as Champion and extended his win streak to 5 consecutive Unanimous Decision victories. His toughest challenge yet however, will come in the form of Diagoro Yabaisama at OFC 279, use the presale bonus code: STEELE for tickets now!



Next up, our Fight of the Night; Former OFC Feathweight Champion Marlo Stanfield taking on Dag Daghammer at Lightweight. The first round started out like most fights do, seeing both guys really feel each other out, wait that sounds wrong, not that there's anything wrong with it...anyways, both men had their moments, trading shots but Marlo took it slightly by cutting Dag open and landing more combos. The 2nd round is really when things got interesting and the epicness knob was turned up just a bit...still not comfortable saying turnt, sorry. After spending some time in the clinch, Stanfield missed with a left hand and Daghammer connected with a straight left down the middle rocking him! Stanfield tried to retaliate while wobbly and got dropped with a right counter, talk about going from bad to worse. Somehow he survived the round, but the damage had already been done. The 3rd round would most likely decide the winner and both of these badasses knew it! A minute in and Daghammer dropped Stanfield once more...you know the "it's not the size of the dog in fight..." expression? Yeah, apply that here. Daghammer really seemed to have found his form heading in to the final seconds of the fight but that's when the unthinkable happened! Stanfield dropped him with a left and a right sending him crashing to the mat. Seeing him rocked, Stanfield waved him to his feet and Mr.Belding Saved him by the Bell. Man, what a war we were treated to with this one. Remember that challenger for Davis, I didn't want to reveal earlier? Well, this was why, Daghammer walks away with the Majority Decision victory and will now meet the Champion at OFC 279. My twitter blew up when this one ended, fans craving for a rematch...and although it won't happen right away, I feel it would be almost disrespectful to the fight Gods if we didn't run this one back at some point.



Our final Performance bonus for Submission of the Night went to Nathaniel Armstrong for his slick armbar transition forcing Black Belt Arthur Halo to tap. Aside from the opening two minutes, this fight was a grappler's wet dream. Demian Maia and Gunnar Nelson probably only own the internet to look at fight footage like this, nevermind all that other filthy smut. A combined 18 submissions were attempted here, but it was the armbar transition from an arm triangle that finally ended things. A bit of a shocker here, but that's why we fight. It's not all about stats and numbers on paper, what do you think this is a text based simulator or something? Armstrong moves his record to 17-8-0 and is sure to fight a key opponent in the division next as he continues to move up the OFC's Welterweight Rankings. Meanwhile, it's back to the drawing board for Halo whose record now sits at 16-10-0. Fortunately for Halo, when you possess the submission skills of a Boa Constricter or Royce Gracie, taking the next opponent's limbs shouldn't be too hard to accomplish.



And that about wraps it up for this review. I'm seeing the red light flash, telling me to finish things up. But before we go, I wanted to give a shoutout to everybody who helped make this event possible, from the fighters, managers to MayheM sportswear in Las Vegas (now home to my Raiders). I also wanted to give 

a quick shoutout to Former OFC Light Heavyweight Champion Shuya Nanahara who retired in the cage after his victory while giving an emotional speech, enjoy the rest of your days my friend, you deserve it. But moving forward, We've got a busy week in the OFC planned for you guys with 3 events taking place between now and Sunday, topped off with a Light Heavyweight Title fight between Champion Shape Shifter and perennial contender Greg Coleman at OFC 274! Also, let's not forget the return of Bellator, WrestleMania and The Walking Dead season finale all going down this weekend as well, it's going to be an exciting one! And as always, if any of your fighters are ever in need of a contract just let me know! Have a great week guys, stay safe, train hard and let those fists fly!
Article views: 79
» Donate to this author