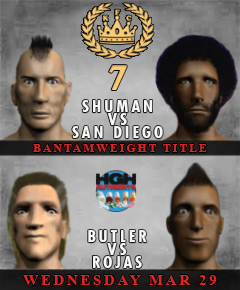 On an exciting Wednesday night in London, 913 fans at The Underground witnessed Angelo San Diego writing his name in the history books by becoming the first ever Kings FC champion! He claimed the bantamweight belt by spectacularly knocking out Frank Shuman, just 1:11 after the fight started. A swift performance which granted him the KO of the night award. Congratulations Angelo, we are all looking forward to your first defense!
     Submission of the night award went to Leroy Braga, who showed his amazing ground work by winning the grappling battle after getting taken down, claiming the back of his opponent and making him submit with an exceptional RNC.
     In maybe one of the most interesting fights during KFC 7, Michael Paine managed to KO Jaden Steve and both fighters got rewarded with Fight of the night performance bonuses. Steve started very confidently, completely dominating round 1, then managing to hurt his opponent early in round 2, but Paine showed his impressive heart by surviving and then surprising Steve with a punch combination and it wasn't long till the ref. had to call an end to the fight.
Article views: 70
» Donate to this author