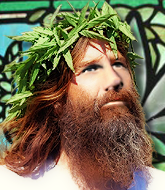 Shortly after his successful title defense against Da Skrumbo at Syn' 528, Abraham Donowitz took to the mic for a post-fight interview.
Q: You're coming fresh off another TKO victory over the #1 contender. This is the second time you've TKO'd Da Skrumbo in the 3rd round. It was a competitive fight early on but you put him away. Almost identical to the last fight. Did you see anything different in there?
A: Close fight man, he's tough, and I prevailed again. Didn't see anything different this time around, same ole' come in there head huntin' Da Skrumbo. That's his bread and butter.
Q: You're an Olympic level wrestler and Tycoon World Grappling Champion. You stood in there with a heavy handed boxer, again, despite, on paper, a huge advantage in the grappling department.
A: Oh yeah, you know, stand in the paint. His bread and butter is my water and wine. I'm fluid and smooth with it. I can do it all, I'm kinda like, you know me - Jesus Christ bro.
Q: Do you have a vision, can you predict the future?
A: This is a very complicated future man. You know, a lotta ins, lotta outs, lotta what-have-you's. And, uh, lotta strands to keep in my head, man. Lotta strands in old Duder's head. Luckily I'm adhering to a pretty strict, uh, nutrition regimen to keep my mind, you know, limber.
Q: Any preference on your next opponent?
A: I'd like a shot against Wolek on my turf man. Went to his home court last time, enemy territory, uncharted waters, crooked officials and all. I'd like to get a crack at him in front of my fans and my promotion. World class.
Article views: 33
» Donate to this author