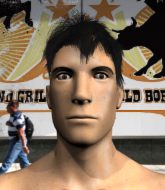 BREAKING NEWS: Macon Sackett signed a 5-fight contract at Aspire MMA just moments ago.
One of MMA's hottest and best prospects has inked a deal with Aspire MMA, so we have heard from some very reliable sources. 
It was not an easy process, as over 10 orgs wanted his signature, but after weeks of chilling at the beach and letting his manager do all the negotiations, Macon Sackett is no longer a high-in-demand free agent.  Speculations as to why he chose Aspire MMA over some other top orgs have already been building up, so what better way to clarify it than by speaking to the youngster himself;
( The room darkens and the soundsystem is put to the test by ' Kind van de Duivel') 
On the soundwaves of this epic beats, Sackett confidently walks into the meeting room:
"I do not have a lot of time today, so can only answer 5 questions. 
Pick wisely...."
Eeeuhm, ok, I'll do my best. 
First of all, what other orgs were trying to sign you and why did you sign the deal at Aspire? 
" I will not disclose what orgs missed out on me, but lets put it this way, there were was a lot of interest in signing me and a lot of org owners will be gutted that they were not able to sign me. As to why I decide that Aspire would be my new home, I can be short as well. Adam Holland. He was very clear about where he sees his org going in the future and that he believes in me. "
Does that mean that you are going to get paid Mayweather-style? 
"Absurd question, but counts as your second questions.  I do not care too much about money, fame, girls and other distractions. My only weakness are cars. 
I love to drive exotic cars, but I heard from my manager that such a thing is worked in the deal. I'll be getting a sweet Jaguar XE for daily travels, so I'm not complaining. Should I win the belt, than something very exotic might follow. "
Who do you consider the best fighter at 185lbs , besides yourself? 
"That would be Casper Timmermans. He is probably the only one who can come close to me as for level of striking. 
I'm sure that we will throw down sometime in the future, even if he would lose his title fight. "
Has anything changed since you were raised by Barn himself? What did you learn from your new coaches? 
"Well, Barn is the grandmaster, so anyone after him would struggle to try and walking his footsteps.  Harry is a very friendly guy, but for some unknown reason, we couldn't find a balanced way to win.  Bjorn on the other hand is not so friendly, as he is not an easy guy to deal with. He has no mercy on me, as he has me sparring Origi every one or two days. He has more of a military-style method than the others, but so far it has been working, so I shouldn't complain too much. 
Keep this between us, but I will ask Origi next week if he can perhaps tune down his damage a little bit, as he is fucking killing me every sparring session, even with huge boxing gloves on to soften the hits. "
Last question, how do you feel about Mikael Brophy, our highest ranked competitor and probably one of the most vocal ones? 
"As a fighter, he seems pretty solid and I look forward to fighting him one day, to unify the 185lbs and 205lbs belts.
But one thing... my god did you see his blablablabla about his career and life? 
Brophy is 24 years old and already is rivaling Churchill his 9,2 million words long biography...what a boring idiot."
Article views: 31
» Donate to this author