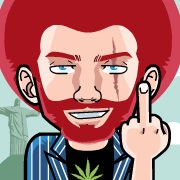 Chris Karter has obtained the #1 Headband. The K.O. King has successfully reached the top of the ranks of managers in every era of the engine, sealing his status as the GOAT. He reached #1 boasting the #1 P4P fighter (Kajun Puno) and the #3 P4P fighter (Abraham Donowitz) in the game - a feat that the majority of the Hall of Fame cannot claim. He's the all-time leader in wins, knockouts, and has guided 3 different fighters to the top spot of #1 P4P.
"I used to be excellent at finding talent. Now talent finds me. There isn't a fighter on the planet that doesn't want to train with my guys at Convicted Fight Club. It's the best damn gym on the planet and produces the best fighters too."
The Convicted Inc President has recently focused on the rejuvination of K-1, assisting in the re-establishment of Dynasty K-1 in Tokyo with the help of Jonah King and Mr. Rocket. His charitiable work inside the organization is just one of his many endeavors. He still manages the premier talent of MMA, the elite of the elite. With an impressive 5 fighters in the top 100, 4 fighters in the top 50, and a total of 6 MMA champions on his roster, he cements his status as one of the best managers and tactitians in the business.
"Jonah King, Rocket, and myself - we're going to take Dynasty K-1 straight to the top. It's a new dawn and era of Kickboxing."
On top of his business and fighter management successes, he finds the time to mentor young managers just getting into the industry. He's groomed up and comers like Danielle Bee, Money Mayweather, Jackie Steve, Cobb, Jason HL, Kalle Durlude, and has even taught Shiv and Bjorn a thing or two - proving that if you're as good as the K.O. King, you can teach old dogs new tricks.

His Mentor - Mentee partnership with Cobb is currently rated #3 in this category, and will inevitably become #1 in the upcoming weeks.
"The knowledge I contain is invaluable. I teach the Art of Combat and The Foot - Fist Way to all me young apprentices."
Truth be told, there isn't a whole lot Chris Karter hasn't accomplished in the Tycoon universe, and with every passing day he just continues raising the bar higher and higher, setting a new standard for those who would love to take his throne. He wakes up in the morning and pisses excellence, and has stained the upper echelons with his golden glory - and he isn't afraid to let all of the Tycooniverse know it.
Article views: 41
» Donate to this author