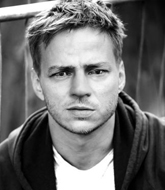 We re-join our hero….I mean Mikael….The day after he was announced to the Aspire audience. He has a scheduled meeting with Adam Holland and his 5 million executives to discuss his first bout. The gym doors open, and in the man steps, this time dressed in Dolce & Gabbana. His shirt is open collared with the top button undone. He took off his Paco Rabanne sunglasses and tucked them into his shirt pocket before walking over to Mikael.
AH: My newest star! We're delighted to have you on board with us and looking forward to seeing you drive the org up the rankings!
MB: Likewise, now, who is it you are offering for me to knock out?
AH: Well, we know you want Alejandro, but he is acting funny since last night. Plus, from a promoter's standpoint, it makes more sense for you to have at least one fight in the company before you get a title fight.
MB: That's fair enough. So who is it going to be?
AH: We got a guy called Tung Fo. He's a former Olympic alternate for Canada in The Olympics. 7-2 currently and he's been making noise about not giving up his spot in the org so we figure it makes sense for him to fight a newcomer, that being you.
MB: And this means a title fight if I win?
AH: Dependant on if we can get in touch with Scott, but we got a couple more fighters potentially coming in so we gotta reassess the division after. I'm not gonna make you the promise if I don't know 100% if we can keep it.
So with that, the fight was set. Mikael Brophy's debut in Aspire was happening on the 22nd April. As usual with Mikael's preparations, we maintained our distance but showed up on the night of the fights.
Mikael and Tung Fo are already in the cage, the bell just having rung to signal the beginning of the fight.
Mikael finds himself defending takedown, after takedown with Fo ruthlessly looking to get the fight to the ground. He is punished as Mikael lands a brutal kick to the body on the minute mark. Mikael continues to land strikes, with Fo having not thrown a strike of his own. Mikael lands a big right hand to the body which visibly hurts Fo as he is gasping for air now. Mikael lands a leg kick, and another, and then a third leg kick. Mikael throws another kick, Fo attempts to check it as he expects a leg kick, but it's swinging towards his head like a baseball bat. Fo immediately crumbles to the floor, unconscious.
*Mikael's highlight head kick KO of Tung Fo*
Mikael is announced as the winner and is immediately asked who he wants next.
MB: Alejandro Scott! You're officially on notice, you got 2 choices. You can either leave Aspire, or you can get your ass kicked for a second time by yours truly. You might have won last time, but everyone knows you were getting beat from pillar to post and I promise this time you won't even make it out of round 1!
New Challenges
Days would go by. Despite the many attempts of Aspire CEO Adam Holland, Alejandro Scott could not be reached for comment. The proposed title bout between Mikael Brophy and Alejandro Scott simply could not be made.
Refusing to wait for the champion to show up, Mikael asked Adam to find him another opponent.
AH: Well, you know with the recent announcement of us acquiring Revolution XC with a view to merging it into Aspire, we might have just the fighter for you to compete against. I'll organise a press conference where you will find out who that is.
So at the Credit Card Centre in Los Angeles, Mikael showed up and was ready to find out his opponent. Adam Holland addressed the attending crowd.
AH: Good evening ladies and gentlemen and welcome to our impromptu announcement. Following his victory over Tung Fo, Mikael is in prime position for a title bout. Unfortunately, due to issues in getting in contact with Alejandro Scott and his management team, we are unable to do that, but we will be having an Interim Championship bout.
The man you see before you, Mikael Brophy, will be the first competitor in the bout. And now I am proud to announce that his opponent will be….
Into the room walks a huge man. 6'3 and weighing close to 220lbs. He walked up to Mikael with no fear and stared him straight down.
AH: I am pleased to announce that Mikael's opponent for the bout will be the Revolution XC Light Heavyweight champion – James Adams!
James Adams was a perfect 14-0, with all of his wins coming via (T)KO. The bulbs were flashing, and the crowd was on edge looking forward to this bout.
Slaying The Bear
On the 12th May, at University Park in Los Angeles – They did battle in the Main Event, Mikael's 2nd main event in 2 fights with the org.
Mikael was both the smaller man and also the older one, so he would have to use his experience and his speed to his advantage for the bout. Both men failed with their initial strikes, before Adams brought the fight into his specialty as he instigated the clinch.
While Adams was looking to grind Mikael down in the clinch, Mikael was looking to punish his opponent with punches. He landed three body punches in quick succession which looked like they had winded Adams badly. He continued to land more punishment in the clinch before using an opportunity to get the fight back to striking range.
He could sense Adams was hurt, and while he missed with a body kicks, and subsequently got hit with a punch, he decided to bring the fight back into the clinch and punish Adams at his own game. Mikael continued to wear Adams down with strikes in the clinch for the rest of the round, as he scored an early advantage.
Mikael came out in the second round smelling blood. He landed a big overhand right that made a nasty noise, but Adams still remained on his fight. Much like he did in his fight with Tung Fo, he hit him with a couple of leg kicks, but followed it up with a body punch. With Adams feeling his lower half was being targeted, he attempted to block the next kick but this was going straight for his head and he crumbled. Adams suffered the triple penalty of being rocked, cut and knocked down in one more, and sluggishly made his way back to his feet.
With Adams remaining wobbly, Mikael weaved his way into range before landing another overhand right which knocked Adams out on his feet. He laid on the canvas, motionless and out cold. The cameras started flashing everywhere, with Mikael cementing himself as the #1 Light Heavyweight in the organisation, and potentially the #1 P4P fighter in the entire organisation.
He took hold of his interim belt, and once again called for the champion to step up to the plate and take him on.
While he stood there, taking in the glory that he had earned, he couldn't have been prepared for what fate had around the corner for him in his Aspiring career…..
…..To Be Continued
Article views: 28
» Donate to this author