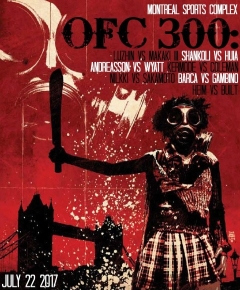 7 Years. 300 Shows, 3300 Fights, 40 Blood Nights and 4 Seasons of The Ultimate Warrior.
All of it has led to this. Many Fighters/Managers have come and gone throughout the years, each one leaving their mark with us in some way, shape or form. None of this would be possible without them or you, and for that I thank you. OFC 300 will feature 7 Title Fights, showcasing the very best of each division we have to offer. I'm proud of this card, milestone, and achievement, as well as everyone who is a part of it and helped me put it together. No matter what happens July 22nd, 2017, it's sure to be a night to remember. The MMATycoon World is watching, let's show them what the Ontario Fight Club is all about and why we've lasted this long!
MAIN EVENT
WELTERWEIGHT CHAMPIONSHIP
Nikolai Luzhin (28-10-2) vs Yancy Makaki Iii (12-3-0)
"The Undertaker" Nikolai Luzhin had made a name for himself long before fighting for the OFC, with previous Title Runs taking place in EVO, CFC and SP:ICON. This fight feels different however, as his Legacy and Championship are both on the line in one of the Biggest Events of the Year; OFC 300, when he takes on Former Strikeforce Union Welterweight Champion; "Fancy" Yancy Makaki Iii, who has been on one hell of a run winning 9 Straight. This headlining slot is well deserved by both men, who are no strangers to the media during fight week and all of the added pressures that come with it, as well as offering more than qualified resumes. When looking at the fight itself, the oddsmakers have Yancy as a slight favorite due to his Elite Boxing and Wrestling, but the skill levels are so close in range that the advantages may not even make a difference come fight night. Don't be surprised to see this one go the distance though, since the majority of both fighter's wins have come via decision, and neither have a finished a fight in 2017. At the age of only 25, time seems to be on Yancy's side but after to speaking to Luzhin's (36) teammates over at Heavy Metal gym, I don't think he's willing to pass the torch on just yet. Tune in this Saturday to see if The Undertaker digs a hole for another soul or if the Fancy era is upon us!
CO-MAIN EVENT
MIDDLEWEIGHT CHAMPIONSHIP
Ravi Shankoli (36-9-0) vs Hone Huia (20-14-0)
The Biggest Betting favorite on the card, OFC Middleweight Champion; Ravi "The Trancendental Dentist" Shankoli will be making his 3rd appearance in an OFC Cage yet the 1st one in Montreal, against the gritty vet challenger; Hone Huia managed by Novaman Movman. Hone is coming in to this one winning two consecutive KO of the Night honors, now aiming for his 3rd and possibly the Biggest upset of the year. And believe you me, the odds are quite justified considering Ravi is riding a 6-Fight win streak all coming by way of KO/TKO and has 27 Career Knockouts to his name. This guy is a heavy-hitter, if ever there was one. Just ask previous OFC Middleweight Champion Peter Parker his thoughts on the matter. Everybody's seen Rudy at least once in their lifetime, so you can't count Hone out just yet...however, MMATycoon isn't a movie and there aren't always happy endings in this world. Sidenote; Oh wow, that came out sounding a lot more dark than I intended it to be, let's go with; hey, anything can happen and leave it at that. Yeah, that sounds more optimistic. 
MAIN CARD
HEAVYWEIGHT CHAMPIONSHIP
Bestar Andreasson (17-6-0) vs Koba Wyatt (11-1-0)
The OFC was left with no choice but to strip now Former Heavyweight Champion Mark Riccuito of his title last week due to inactivity. So the Vacant Championship will be up for grabs between original Challenger "The Soldat" Bestar Andreasson and late replacement, knockout artist Koba Wyatt. With 25 Knockouts between the two, it should be fairly obvious how this one will end. Don't be surprised if the Knockout of the Night is awarded to the winner of this one. It may very well come down to who lands first. Coming in at the age of 29, both men should be peaking in their skill-sets and careers, so it will be interesting to see which man will continue on an upwards trajectory as they build their legacy, while the other will be forced to take a step back to re-evaluate things in order to come back stronger. Word on the street is, Bestar flew in fellow Countryman Alexander Gustafsson for some late night sparring sessions in order to adjust to the opponent change. We'll see if move pays off in the end or if the offshore transaction will bring him down like Jordan Belfort.
MAIN CARD
LIGHT HEAVYWEIGHT CHAMPIONSHIP
Mayo Kermode (42-26-0) vs Greg Coleman (23-9-0)
Since the OFC's resurgence back in December, there's been two fixtures in the Light Heavyweight Division; Shape Shifter and Greg Coleman. Mayo Kermode shocked the world last month by defeating Shape to become the Light Heavyweight Champion. Now in his first title defense, he will take on the other perennial contender Coleman in order to truly cement his standing in the division. Coleman will be looking to capture the Championship for a 3rd title reign, almost solidifying himself as a Future Hall of Famer if he does. A lot more than Pride on the line in this one. Sharing 47 Knockouts between the two, these guys are no strangers to cracking skulls. Coleman may have the advantage standing on paper, but don't let that fool you in to thinking Mayo won't try to test his chin. However, if the fight does go to the floor, Coleman has shown to be more susceptible to the submission as of late. But knowing Greg, as soon as he got back to the gym after his last loss, defensive grappling was the first thing he went to work on. No matter what happens, seeing Mayo rejuvenated at this stage of his career is nothing to scoff at and is more motivational than the 1st Season of GLOW on Netflix!
MAIN CARD
FEATHERWEIGHT CHAMPIONSHIP
Pikku Nilkki (27-10-0) vs Hiroshimo Sakamoto (27-13-1)
This is a fight that I feel has flown under the radar...until now. OFC Featherweight Champion and Former Destiny Bantamweight Champion Pikku Nilkki looks to defend his title for a 2nd time against Former Death Squad and UGD Lightweight Champion Hiroshimo "Hiro" Sakamoto. You don't get more well-rounded than these two warriors, with no skill less than Sensational. Yet Pikku seems to be more willing to go for the finish as of late, while Sakamoto is content with going the distance, winning 9 of his last 10 fights by way of Decision. Nilkki is coming off of a 1st Round TKO victory over Krejzi Kure, where he never looked better. You've got to think his confidence is at an all-time high. Yet at the weigh-ins earlier, Sakamoto didn't seem to be phased at all, not even in the slightest. How could he be after defeating Former 2x OFC Featherweight Champion Marlo Stanfield in his OFC debut? A few words were exchanged between the two at the staredown, but I'm not sure if a single word was understood considering both of their languages being completely foreign to the other. It sort of reminded me of the early interactions in Rush Hour, between Chris Tucker and Jackie Chan, except more whimsical. 
MAIN CARD
LIGHTWEIGHT CHAMPIONSHIP
Hannibal Barca (21-9-0) vs Childish Gambino (37-21-0)
The OFC Lightweight Championship has been unable to find a stable home as of late, but current Champ Barca is looking to change that as he defends for the 1st time against OFC vet and Knockout Record Holder Childish Gambino. Barca became Champion at OFC 295: City of Angels, earning a 3rd Round TKO Victory and has been eager to get back in the cage ever since. His ground n pound looked absolutely ferocious in that fight so you've got to think until it's dry, that's a well he may very umm...well, go back to. Also, the fact that Gambino has 32 Career Knockouts to his name, why even risk trading shots with him on the feet? I'm not one to tell a fighter, a World Champion at that, how to gameplan/strategize, but the logical path seems pretty clear. On the other side, after 35 fights in the OFC, at 41 years of age and never winning the big one, it's highly likely this will be Gamino's last chance to do so. He's hinted at possibly retiring if the fight doesn't go his way, I just hope by Gambino telling Ariel Helwani that, earlier this week, that Barca hasn't already defeated him.
MAIN CARD
BANTAMWEIGHT CHAMPIONSHIP
Aribert Heim (29-18-0) vs Maui Built (13-6-0)
The lone rematch of the entire card. Nothing wrong with stirring up some previous bad blood, even if there may or may not have been any there to begin with...but let's just say there is, for dramatic effect. Heim looks to defend his title for a 2nd time and remain undefeated in the OFC Cage against previous rival "Da Kine" Maui Built. Their first fight saw Built get rocked in the 1st Round with an elbow from half guard, yet he regained his senses and keep the last two rounds competitive. From what I've heard out of Built's camp over at Boyz II Men, is that he's still so young at 25, that he's a like sponge, constantly learning and inevitably evolving. Not sure why, but after hearing that, all I could think of was the Goosebumps tale; It Came from Beneath the Sink! Former Champion Diagoro Yabaisama flew in for the event and will be sitting cageside for this one, believing he's most likely next in line. These guys might need some time to recover after this one though, because of what will most likely turn out to be 25 minutes of giving each other hell!
PRELIMS
HEAVYWEIGHT DIVISION
Cam Newton (22-10-0) vs Soul Jah (21-3-0)
This key matchup should give the Heavyweight division a new #1 Contender. Both Cam and Soul have been on incredible runs in the OFC, so a crash course between the two seemed inevitable. With 33 Knockouts between the two, I'd imagine we're going to be treated to another Stand-up Battle. There's two clear advantages on paper that I see for Soul, one being his Sensational Muay Thai which can be key if used properly and the other being his granite chin. Soul only has 3 career losses, all coming by way of decision. Considering this is the Heavyweight division, that is quite an achievement. But if anybody has the power to turn off his lights like the Cable guy, it's Cam freaking Newton! All of these super brawls will catch up to him at some point though, maybe it's because of his days playing football but he's already suffered 7 TKO defeats before going on his current run. But you know what they say, live by the sword, die by the sword!
PRELIMS
LIGHT HEAVYWEIGHT DIVISION
Shape Shifter (20-13-0) vs Eagle Loveladdy (24-6-0)
Former OFC Light Heavyweight Champion Shape will be looking to bounce back after losing his title to Mayo Kermode, against one of the biggest prospects in the division; Eagle Loveladdy. Shape's submission skills are second to none, so there's no doubt he'll be like a shark in the water once again if the fight goes to the floor, and we've all seen JAWS many times before...great movie. Hopefully Eagle's takedown defense has improved since we've last seen him, otherwise he could be going to sleep quicker than my dear grandmother does on a weeknight. Every fight starts standing though, and that's the one advantage every round that Eagle will have, especially with his Elite Muay Thai and 17 Career knockouts. It's the classic striker versus grappler matchup, tune in at 6:00 pm EST to see who prevails!
PRELIMS
WELTERWEIGHT DIVISION
Chiku Maneno (26-15-1) vs Peter Angelov (14-10-1)
The curtain jerker...our opening fight of the night. Since debuting in the OFC, these two have looked incredible. Chiku was last seen headlining OFC: Blood Night XL, where he defeated Rafael Vieira to earn this opportunity to perform on the big stage. Meanwhile, Peter has been steadily moving up the Welterweight rankings looking for the right name and breakout performance, and what better place to do that at than OFC 300 in the Montreal Sports Complex! Chiku's Elite Boxing puts fear in the hearts of even the bravest men, but Peter has signed on the dotted line and is up to the challenge/biggest fight of his life. Doors open 4:20 pm EST and limited edition Undertaker headbands will be given away to the first 1,000 attendees. Sidenote: If I see any of them being sold on Ebay later, I am going to lose my *Beep*!
Article views: 21
» Donate to this author