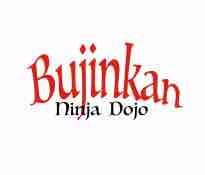 Just over a month ago a new dojo opened in Tokyo, aiming to cater for those fighters that are on the road to greatness.  There was a clear gap in the market between the $50 Cozad Gym and the $1000 elite gyms that so many fighters frequent.  It was an easy decision to focus on those in-between, that are perhaps not five figure contracts in an effort to help fighters in Japan move to the next level without them becoming destitute.
The Bujinkan Ninja Dojo was created with the idea of reintroducing the idea of discipline, self-control, and technical excellence to the modern warrior.  The philosophy of the ninja is so often misunderstood.  The contemporary image is that of a man in black skulking in the shadows, stalking his prey.  The truth is ninja's always hid in plain sight.  Stealth was only used as the primary escape and evasion technique.
The Head Coach Cedric Henry has a full workload, covering everything from striking techniques, close quarter combat and wrestling.  He is aided by two assistant coaches, former Olympian and decathlon silver medalist Mary Howell, and decorated wrestler and BJJ black belt Samuel Patton.  As a team they are still developing, learning along with their fighters, and attempting to demonstrate a ninja's drive for self-improvement.
Their clients are a mixture of newcomers and journeyman, with the most notable being four time fight of the night winner, and three time KO of the night winner, Frankie Griggs.  The gym itself is supplied by Champion supplements,   With a large capacity of 30, and a responsive management team, it will be fascinating to see where they go from here.
Article views: 5
» Donate to this author