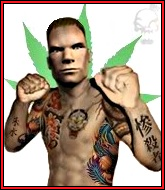 Ryoto "War Machine" Takahashi (15-6-0) conquered some MMA demons last weekend by defeating veteran featherweight rival Taylor Jack (33-19-2) with a second round submission by way of kimura. The Japanese product of Convicted Fight Club overcame his past failures by defeating the man who previously held bragging rights with 2 wins over him.
Takahashi, a BJJ black belt under Kazuka Fuujin, recorded his 5th submission of his career after he knocked Taylor Jack to the canvas with a massive right hand that had the British fighter rocked.
Ryoto, often critisized for his fight IQ and letting fighers he hurts off the hook, immediately followed his opponent to the ground and went to work, putting his slick jiujitsu skills on display. He worked for a kimura before threatening with an arm triangle. It looked tight but he released it and adjusted with a tight kimura that nearly ripped Taylor Jack's arm out of it's socket.
With that victory Ryoto Takashi, the surging prospect in SMASH's featherweight division, moved to 6-5 at 145, and hopes to keep the momentum moving in the right direction. Ryoto, through a translator, told the crowd how happy was to submit his rival in front of all the fans that came out to see him, and he loved his fans that stood with him despite the relative lack of buzz about a third fight between these two.
Ryoto made it clear, nobody on the planet wanted this fight more than him, because he knew he was the better fighter and that it was his duty to prove it to everybody else watching, all the doubters and naysayers. For Takahashi, the third time was the charm in this series between two very talented fighters.
Article views: 2
» Donate to this author