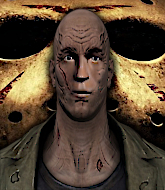 "The Slasher" Jason Voorhees is the hottest thing in Hilo, HI right now as he tops the only org in the city.
On November 19th in Hilo Jason destroyed his feeble attempt of an opponent in only 21 seconds and looks to do the same next week on December 3rd at Hayashi's Lounge in Hilo, HI against King Captain Master Daddy "Stoned" High (389947). But that's not why we are here today... We talked about his last fight and what he will be doing next week... now let mention this week...

This week Jason will be giving back to the community by hosting the "Hack and Slash, bloody bash." We are told that it will be an event to die for. The event is going down at Camp Crystal Lake, Jason has sent out a formal invites. This is one event that I wouldn't be caught dead at. Haha
Early next week Jason has also invited MMA experts to watch him train. If you get down to Cobra Kai gym in Hilo HI any day except Sunday night hen you can watch our man Jason Voorhees show how he prepares for his fights.
Article views: 2
» Donate to this author