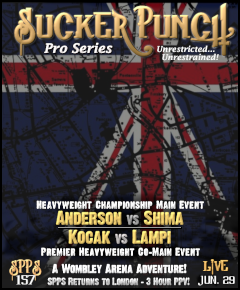 Hello Sucker Punch faithful!  Hare Rumpler here and I'll be joined as usual by our very own Donkey "Dan" for some in depth analysis and picks as we head full steam towards SPPS 157 this evening.  And, surprise, surprise, it may be a mid-week card here at Sucker Punch…but that doesn't mean we're in Tokyo for a change!  Instead, we've slipped back on over to the Wombley in London for a rare showing over on that side of the pond!
THIS IS A HUGE AND FUN ONE TODAY FOLKS!!!!!
I'm not going to get into a lot of detail here as I actually have some work to do for the place that keeps the roof over the heads here at Rumpler central, so let's jump into the word from our merchandise partner and sponsor and get to a closer look at each fight after.
Do you find that you're resting your fighters too often? Two, three, maybe even 4 times a week sometimes?  If that's the case, you're probably not supplementing their training, and if you are I'm thinking you're not doing it with Shadow Warrior Tea 160Q, which is Shadow Warrior Nutrition's outstanding energy loss reduction supplement.  It's the best money can buy and will keep your fighter in the gym training rather than sitting days out resting!  Stop on over there today, you will NOT be disappointed!
Now, let's get to it!  The full preview is now up here!  Enjoy!
https://www.mmatycoon.com/forums/index.php?/topic/65096-sucker-punch-pro-series-unrestrained-opens-in-sydney/&do=findComment&comment=985423
Article views: 9
» Donate to this author