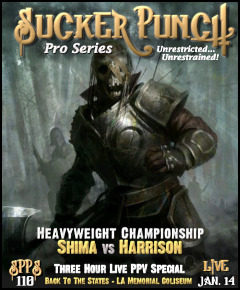 Hello to all our fantastic Sucker Punch fans worldwide out there!  Hare here and I'll be joined shortly by my buddy and analyst, Donkey "Dan"…and I won't lie…we're in full scramble mode here because we very much still owe you all a good review of SPPS 109 which took place two nights ago…but here we are also with practically back to back events as we come flying over from Tokyo to the LA Memorial Colliseum for more great action tonight!  SPPS 110 coming at you hot and heavy this evening folks, and it's a big one with the BIG BOYS throwing down for the title!
So yeah, no time for dilly-dallying here, let's jump right into things and see what we've got going on tonight on the left coast?  The first thing that jumps straight at you when you look at the card is yeah, sure, the BEASTS may be finishing off the evening as they battle for the belt…but it's the little g
cont...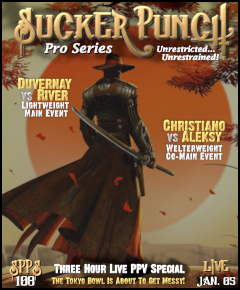 Alright Sucker Punch fans…Hare here…at least to get things kicked off…and then it looks like we'll be turning things over to Donkey tonight.  I originally had Risa Roo on the line to do the preview…but surprise, surprise, she baled on me.  I don't know why I even ever believe her when she says she'll do the preview.  Two-thirds of the time that's fool's gold and she leaves me scrambling!
That all said, I have some other obligations this evening and need to get running here but want to get this out there for you guys!  No title fights on the card tonight, but man, a ton of action including our newly arriving unrestricted guys getting way more into the action!  And our own home-grown boys being willing to get in there and take them on!  Nice.  Love it! 
And fun, fun, don't know if you guys saw me post it after
cont...